Your benefits through our water quality controller:
All measurement data available at a glance thanks to digital interfaces and an easily read display.

Minimal and predictable maintenance expenditure.

Accuracy and documentation of measurement data at the highest level.
We have various kinds of controllers, some can connect one sensor, some can connect multiple sensors. English version controller is universal, if you need other languages, we can also customize for you. The purpose of the controller is not only to display data, but also to control, like aeration pump, dosing pump, etc.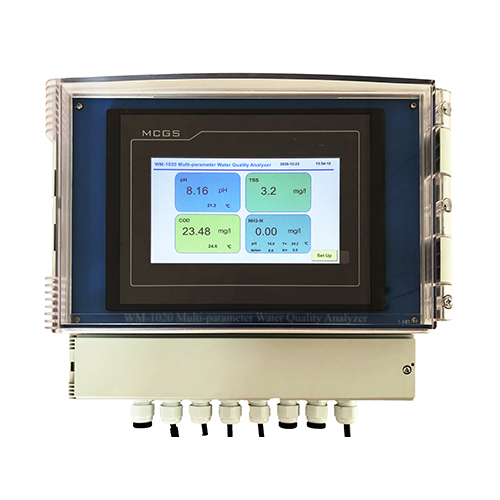 Universal controller that can connect intelligent electrodes and multi-parameter electrodes, display measured value and electrode status in real time, to calibrate electrodes, with data storage, data transmission and other functions. The controller interface is simple, easy to operate, non-professionals can also use it quickly. The electrodes to be connected include: pH, conductivity, dissolved oxygen, turbidity, ammonia and nitrogen, full spectrum, multi-parameter, etc. It is suitable for surface water, drinking water, municipal wastewater, industrial waste water, water plant, sewage treatment, circulating cooling, process monitoring and so on.
Water Controller Features
Up to 10 parameters can be connected at the same time

Electrode plug and play, automatic identification

Large touch screen, easy to operate
The data can be stored for more than 1 year

Standard Modbus protocol,high integration

IP 65 protection grade,shock resistance and flame retardant
Main use and scope of application
Widely used in surface water, municipal sewage, industrial wastewater, sewage treatment, water plants, industrial processes, aquaculture and other industries.
Temperature: (5-35)℃; humidity: <85%RH, non condensing.
Display screen: 7 "TFT touch screen, LED backlight; Display size: (154×86)mm; Resolution: 800×480; Analog output: Yes; Relay output: Yes; Communication protocol: RS485, standard MODBUS protocol; Operating environment: (5-45)℃, (0-95)%RH; Protection grade: IP65; Shock resistance: IK 08; Flame retard ant grade: UL94-5V; Housing material: PC; Dimension: (235×185×117)mm; Operating voltage: 220V AC.